Karma Busting with Ganesha
For all of the mystics, lightworkers and those who are drawn to the universe.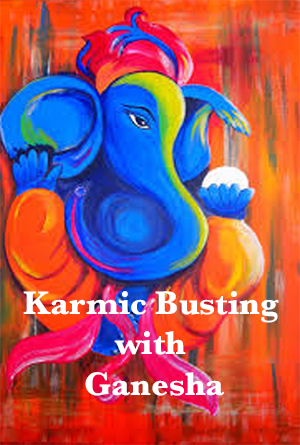 "Karma Busting with Ganesha" workshop is for people who are interested in manifesting successfully their dreams of awakening, ascension, prosperity, abundance and good life. Manifestations and creating success have become difficult now, and more so with people desiring ascension, awakening, prosperity, and abundance. The only reason for this is the "Karma". The enlightened ones, the Masters always say that we can manifest everything we ever wanted to, in our physical reality only when the karmic burden on us is released, the main reason we're here on earth, living a life. "Karma Busting with Ganesha" is presenting not only a technique to remove karma faster, but also a guide, friend and an energy which is powerful for your whole life. This will involve creating (Ganesha archetypes with air-dyed no-fuss clays), chanting and meditation. This workshop will also help in understanding our dreams and manifesting them successfully. Ganesha the Lord of the Angels is revered because of his compassionate dealings and ready responses to our prayers.

This event is led by Paulmie:
Paulamie is an Arhatic Yogi, a healer versed in Angel, Pranic, Reiki and have devised her own healing technology with the energy & symbols. She is a manifestation coach, spiritual mentor, shamanic practitioner, Angel empowerment & Meditation Coach, a Tarot Master, Angel Card Reader, and Numerologist. She is also a student of Vedic astrology and is in close attunement with the soul-power and receives information from them.
We invite you to join us on Friday July 13th, 2018 from 6:30pm to 9:30pm for this special event.
The cost of the event is $30.